Endometriosis treatment in Hyderabad for infertility at Ziva fertilityy clinics
Call now at +91-9100002737 for your laparoscopy endometriosis surgery in Hyderabad and Secunderabad at Ziva fertilityy centres. Get an estimate for your endometriosis treatment cost in Hyderabad now!
Ziva fertilityy centre is one of Hyderabad's most prominent fertility hospitals for endometriosis ablation in Hyderabad for infertility patients with the branches in Manikonda, Banjara Hills, Kompally, Sanath Nagar, and Langar Houz. All these Ziva fertilityy centres provide top-notch endometriosis treatment in Hyderabad and Secunderabad.
Ziva fertilityy clinic aims to give women quality, moral fertility health care that addresses all aspects of reproductive health. Female fertility treatment services of Ziva fertilityy clinics are ethical and evidence-based and with the national and international quality standards.
Ziva fertilityy centre offers a wide range of infertility treatment services to patients at an affordable cost. Ziva has state-of-the-art fertility care technology and world-class equipped fertility laboratories. Ziva aims to deliver comprehensive and individualised fertility care to everyone with parental and reproductive goals. 
Call now +91-9100002737 for your medical management of endometriosis in Hyderabad and Secunderabad.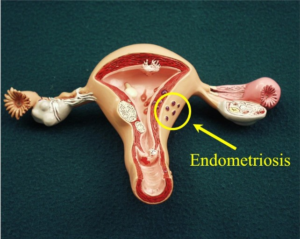 Endometriosis treatment for infertility at Ziva fertilityy centre in Hyderabad
The female body's functions are frequently unpredictable. Every irregular cramp and muscular pain you experience is a gentle reminder to take good care of your body. All of us receive these messages, regardless of our gender. Endometriosis and fibroids are two remainders more prone to be outspoken in female bodies. 
Infertility in women is one of the numerous problems of the painful illness of endometriosis. Endometriosis is a disorder in which an abnormal mass of cells that resemble endometrium grows outside the uterus. The monthly menstrual bleeding is related to the endometrium, a thin membrane that covers the uterus from the inside.
Endometriosis typically develops in the uterus; however, in rare, unusual circumstances, it may do so
Ovaries 

Fallopian tubes that join the uterus and ovaries

Surroundings cervix tissues

The tissue lining the pelvic
Endometriosis can, in rare circumstances, also affect other body parts. According to certain studies, 3 to 10% of women of reproductive age have endometriosis.
Symptoms of endometriosis 
Severe pelvic pain during periods 

Mild discomfort during natural mensuration 

Pain during sex

Lower back pain

Abdominal pain

Urinating more than usual 

Early bleeding before menstrual starts

Painful bowel movements
Causes for endometriosis 
Immune system dysfunction 
When the immune system in your body fails to identify and destroy the endometriosis cells, they accumulate and form a lump of tissues.
The blood with endometriosis cells flows into the pelvic cavity through the fallopian tubes rather than exiting the body. These endometriosis cells stick to the pelvic walls and accumulate over time. These tissues thicken and bleed during the menstrual cycle.
Peritoneal cell transformation 
Coelomic and peritoneal cells are transformed into endometriosis cells by hormones or the immune system.
Embryonic cells transformation
Embryonic cells transform into endometrial-like cells during puberty during hormones like oestrogen, which tends to develop endometriosis. 
Surgeries like hysterectomy or C-section leave an incision, and these endometrial cells sometimes stick into the surgical incision, causing scar endometriosis.
Transport of endometrial cells
The cells may use the lymphatic system or blood vessels to spread to other body areas, where they adhere and multiply to form endometriosis, a mass of cells.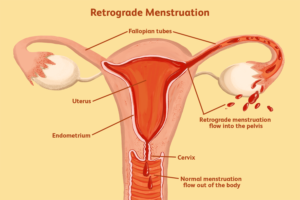 How is endometriosis diagnosed?
Laparoscopic surgery is used to diagnose endometriosis surgically. A thin viewing tube, known as a laparoscope, is inserted through a tiny abdominal incision during laparoscopy. For a second entrance for the surgical instruments, a second incision may be created on the lower abdomen. Your doctor can view the outside of the uterus, ovaries, fallopian tubes and other organs up close using a laparoscope. Surgical tools for removing scars or obtaining tissue samples can also be attached to the laparoscope.
A complete pelvic examination

Ultrasound test

MRI
Endometriosis treatment in Hyderabad
Endometriosis can range in severity from mild to severe, and it can have adverse repercussions that could be fatal. However, with early detection and care, endometriosis can be appropriately treated. Potential problems are managed using both restorative and surgical procedures. The doctor initially uses conservative treatment, depending on the condition. The tissue mass is surgically removed if there is no improvement.
Doctors may prescribe painkillers like NSAIDs or ibuprofen to treat uncomfortable menstrual cramps. The following treatment options will be recommended if they are not successful for some ladies.
When used to manage the hormonal shifts in your body that have been shown to affect the growth of endometrial tissue in some women, hormone therapy is quite successful. Hormone supplements also ease discomfort and stop endometriosis from spreading.
The hormones that cause the formation of endometrial tissue each month can be controlled with hormonal contraceptives such as birth control pills and vaginal rings
Endometriosis is treated with a variety of progestin-based treatments. Some of them include contraceptive implants and injections, the intrauterine device levonorgestrel, or a progestin pill that suppresses menstruation, lowers the risk of breakthrough bleeding and has similar effects against endometriosis.
Gonadotropin-releasing hormone (Gn-RH) agonists and antagonists
GnRH therapy can stop the generation of the ovarian-stimulating hormone, lower oestrogen levels, and end periods. The endometrial tissue eventually begins to contract.
Laparoscopy, a minimally invasive surgery that may identify and remove endometrial tissue, is used in conservative surgery to remove the endometrial tissues without harming other organs. It is frequently advised for women who are trying to get pregnant, have excruciating pain, or receive ineffective hormonal treatments.
The surgeon removes the lesions during this procedure. It may be necessary to remove the uterus, cervix, and ovaries because they produce oestrogen, which promotes the formation of endometrial cells. Unfortunately, a lady with a hysterectomy can no longer get pregnant.
Pre-care for endometriosis treatment 
Do not eat or drink for at least 8 hours before the procedure.

After a laparoscopy, you might be told to wait a while before taking a bath or shower to give the incision time to heal.

Showering right before the procedure might make you feel more comfortable.
Why choose Ziva Fertilityy centres for your laparoscopy endometriosis in Hyderabad and Secunderabad?
Ziva Fertilityy Centres, one of Hyderabad's top fertility clinics, offering the world-class medical management of endometriosis (endometriosis ablation) in Hyderabad and Secunderabad.
All Ziva fertilityy clinics are staffed with a highly skilled and knowledgeable team of medical professionals, including fertility doctors, experienced nurses, coordinators, and fertility counsellors
Provider of best laparoscopy endometriosis in Hyderabad and Secunderabad

Best fertility clinics for men and women infertility treatment in Hyderabad

22+ years of experience as a fertility specialist in India and abroad

State-of-the-art medical management of endometriosis

Evidence-based practices in endometriosis ablation procedure

With the best expertise in 3D and 4D ultrasoundTwo thousand IVF cycles.

World-class laparoscopy surgery care services

5000+ happy families with healthy babies

Board-certified laparoscopic surgeons and fertility specialist

10,200+ ICSI cycles

24/7 accessible for endometriosis surgery in Hyderabad and Secunderabad.
Laparoscopy endometriosis cost in Hyderabad at Ziva fertilityy centres
The endometriosis treatment cost in Hyderabad and Secunderabad at Ziva fertilityy centres are affordable. The endometriosis ablation/surgery cost will depend on surgical alternatives, such as LAPEX, laparoscopy and ablation, ovarian cystectomy, or LAPEX with hysterectomy, and also covered by insurance because they are deemed "medically essential." On the other hand, fertility treatments such as recanalization, IVF, and ICSI are voted out due to their classification as treatments taken out of voluntary choice.
Call now +91-9100002737 , Ziva fertilityy centres and Get now an estimate for your Laparoscopy endometriosis cost in Hyderabad and Secunderabad.
Testimonials for endometriosis laparoscopy in Hyderabad at Ziva fertilityy centres
Madhavi
Thank the Ziva fertilityy centre doctors and staff for my excellent care during the surgery. After a year, I feel like a completely different person. I no longer experience discomfort that limits my activities or prevents me from enjoying my life. I strongly advise women with endometriosis and suffering from pain, bleeding, and other symptoms to seek the expertise, compassion, and keen surgical abilities that Ziva fertilityy doctors possess.
Read here more testimonials for laparoscopy endometriosis surgery at Ziva fertilityy centres.
Laparoscopic Endometriosis Treatment at Ziva fertilityy centre in Hyderabad – FAQS
1. How can endometriosis patients naturally conceive?
Fallopian tube blockage is the most frequent issue with endometriosis and spontaneous pregnancy. The fallopian tubes can be recanalized to address this. Ask your doctor to do the chromopertubation test in addition to your laparoscopic diagnosis and therapy if you are experiencing fertility problems. Recanalization can be done concurrently if necessary. This procedure increases the likelihood of a natural conception.
2. What are my endometriosis fertility options?
The doctor can conduct fallopian tube recanalization if the fallopian tubes are obstructed due to endometriosis. You have the choice of IVF or ICSI for assisted reproductive technology.
3. How long does it take to have endometriosis surgery?
Surgery for endometriosis typically takes between 60 and 90 minutes. However, depending on your health, comorbidities, and doctor's expertise, this period may also change.
4. How long does it take to recover from endometriosis surgery?
The usual recovery time following endometriosis surgery is 3-5 days.
5. How to get laparoscopy endometriosis in Hyderabad and Secunderabad at Ziva fertilityy clinics?
Call now +91-9100002737. for endometriosis ablation in Hyderabad and Secunderabad, male and female infertility treatment, IVF, IUI, and ICSI treatments at an affordable price at all Ziva fertilityy clinics. Book your appointment for medical management of endometriosis now.
Timings: Mon to Sat: 9:00 AM – 5:00 PM
Sunday: Consultations only on prior appointment
Chat with Ziva fertilityy clinic's fertility surgeon: click here.
Contact us right now at +91-9100002737
Email now: Info@zivafertility.com
Call now: +91-9392834024
Follow Ziva fertilityy clinic on Facebook/ Twitter/ Instagram
Subscribe now: YouTube
Address: Ziva fertilityy clinic is located in Hyderabad, a prime location and delivers IVF, IUI, and ICSI treatment for people. We have branches around Hyderabad including Manikonda, Banjara Hills, Kompally, Sanath Nagar, and Langar Houz.
View on Google Maps: https://www.google.com/maps/place/Road+No.+12,+Hyderabad,+Telangana+500034,+India/@17.410097,78.437668,20z/data=!4m6!3m5!1s0x3bcb972455f5b505:0x84bb99a124eab051!8m2!3d17.410097!4d78.4376677!16s%2Fg%2F1tgx51gb?hl=en-GB
If you have further questions about medical management of endometriosis and endometriosis ablation cost in Hyderabad, schedule a consultation with one of Ziva fertilityy doctors in Hyderabad and Secunderabad. Get an estimate for endometriosis treatment cost now!
Call now +91-9100002737, for your laparoscopy endometriosis. Get advice for your laparoscopic endometriosis surgery in Hyderabad and Secunderabad.