IVF Treatment in Hyderabad | Ziva Fertilityy Centres
Call now +91-9100002737 for IVF treatment in Hyderabad and Secunderabad. Get an estimate for your IVF treatment cost in Hyderabad now!
Ziva fertilityy IVF centres in Hyderabad, are the best fertility hospitals with branches in Manikonda, Banjara Hills, Kompally, Sanath Nagar, and Langar Houz areas. All Ziva's IVF centres are equipped with  advanced in vitro fertilisation IVF technology and provide best IVF treatment in Hyderabad and Secunderabad. 
With more than 78% success rate in IVF procedures, Ziva clinic's IVF treatment is intended for couples with infertility issues that have not been conceived in years. So, this Ziva  IVF treatment in Hyderabad and Secunderabad will help you increase your chances of pregnancy by IVF procedures and techniques.
Ziva fertilityy centres are the best IVF centres in Hyderabad providing evidence-based and ethical practices in fertility care, world-class IVF treatment and other fertility treatments as it is backed by experienced infertility specialists and IVF doctors in Hyderabad.
Call now +91-9100002737, Talk to the best infertility specialist at Ziva Hyderabad fertility centers for your IVF treatment in Secunderabad and Hyderabad. 
Becoming parents is the best stage of a couple's or person's life. Unfortunately, it's not that simple for most people because of health issues like infertility, aging, and other problems with the reproductive system.
IVF, A new reproductive technology for infertile couples
Sir Robert Edwards and Patrick Steptoe developed the IVF treatment in 1978 to address these reproductive system problems that might prevent conception. This procedure aims to ensure a successful start, pregnancy, and ultimately the birth of a healthy baby.
Best IVF treatment in Hyderabad at the Ziva fertilityy centres
IVF means in-vitro fertilisation. It is a process by which embryos are created after sperm and eggs are fused outside the body, and the seeds are placed into the uterus. And this will increase the chances of pregnancy.
Why do you need IVF treatment?
If you have blocked or damaged fallopian tubes

If you have premature ovarian failure

If your partner has male infertility issues like oligozoospermia, teratozoospermia, or asthenozoospermia
What are the causes of infertility? 
Low-sperm count

Endometriosis

Poor egg quality 

Problems with ovulation 

Genetic diseases of mother or father 

An unexplained fertility problem

PCOS
Preparation for IVF treatment 
Before beginning treatment, a consent form is required to be signed by each couple.

The treatment plan calls for a baseline ultrasound scan. Cysts may cause the cycle to last a little longer.

After the baseline scan, the dosage of FSH is confirmed.

A woman's blood sample will be taken for hormone assessment to check if there are under-responsive or over-responsive hormones. 
Steps for IVF treatment 
After your baseline scans, injections stimulate your ovaries to develop multiple eggs.
The egg retrieval procedure happens just before ovulation when the eggs are released. Follicular aspiration is a surgical procedure to remove eggs from a woman's body. The woman receives anaesthesia during this step to ease her pain. It might take 20 to 30 minutes to complete.
Under ultrasound guidance, the egg is removed aseptically through the vaginal route. After that, a tiny needle with a suction device is inserted into the vagina, ovary, and egg-containing follicle. The suction device is used to collect the eggs and any surrounding fluid.
Insemination and fertilisation 
Semen is taken from the male partner for in-vitro fertilisation treatment. The process of combining sperm and egg is known as insemination. Fertilisation is creating the ideal conditions for the sperm to enter the egg.
An intracytoplasmic sperm injection will be chosen if the fertility specialist believes there are few chances of fertilisation. Healthy sperm will be directly injected into the mature egg during ICSI by a professional. Sperm density and mortality are crucial for a successful IVF cycle.
The fertility experts then monitor the fertilised eggs kept in the incubator to ensure cell division and development. To keep up with the nutritional requirements for the growing embryos, culture media is changed regularly. When the source grows in the incubator, the fertility expert removes a small sample and tests it for genetic diseases. This test is known as a preimplantation genetic diagnosis or PGD.
The embryo transfer procedure is performed when the embryo is ready to be implanted. After egg extraction and fertilisation, it takes about 3-5 days for it to develop. The blastocyst stage is typically used for embryo transfer, which improves the likelihood of conception.
A thin tube called a catheter containing the embryo is inserted inside the vagina through the cervix and up into the womb. When the embryo gets implanted into the uterine wall and starts growing, a simple blood test will determine pregnancy after 10-12 days.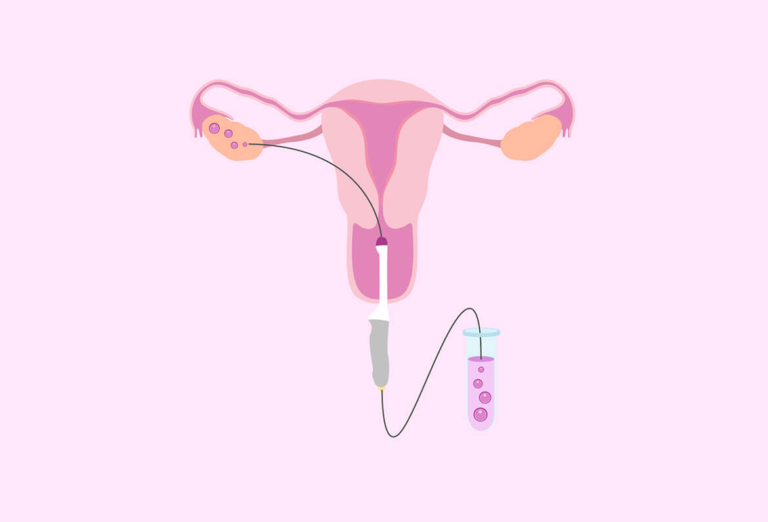 Post-care for IVF treatment 
Pamper yourself for a couple of days

Keep taking your medications

Eat a healthy diet 

Avoid having heavy exercises

Stay hydrated

Stay away from harmful radiation 
Why choose the Ziva fertilityy centre for IVF treatment in Hyderabad?
Ziva fertilityy centres are one of the leading IVF clinics in Hyderabad, providing the best IVF treatment, male infertility treatment, female fertility treatment,  reproductive medicine and individualised fertility IVF care for every patient during the journey to parenthood. 
The Ziva fertilityy centre provides comprehensive testing for female infertility causes, and Ziva specialises in IVF process and IUI procedures. All Ziva IVF centres missioned to make your in-vitro fertilisation treatment procedure and experience worthwhile, convenient, and comfortable. 
Ziva fertilityy clinics in Hyderabad and Secunderabad are staffed by highly specialised IVF doctors, IVF specialists, and an experienced team of medical professionals, technicians, coordinators, and counsellors.
Best fertility clinics for men and women infertility treatment in Hyderabad

22 years of experience as a fertility specialist.

Affordable IVF treatment cost in Hyderabad and Secunderabad 

State-of-the-art IVF lab in Hyderabad

A leading fertility hospital in Hyderabad with your nearest IVF centers

Evidence-based, ethical IVF process

Licensed, best infertility specialist in Hyderabad

With the best expertise in 3D and 4D ultrasound

Two thousand IVF cycles.

World-class IVF centre in Hyderabad

5000+ happy families with healthy babies

Board-certified IVF doctors in Hyderabad 

10,200 ICSI cycles

Patient-centric IVF procedures and fertility treatment services

24/7 accessibility to IVF hospital in Hyderabad.
IVF treatment cost in Hyderabad at Ziva fertilityy centre 
IVF treatment cost in Hyderabad depend on your location, the number of IVF cycles, the number of medications you must take, and the amount your insurance company will contribute to the procedure. IVF treatment coverage by your insurance provider should be thoroughly investigated, and you should request a written summary of your benefits.
Call now +91-9100002737  and get an estimate for your IVF cost in Hyderabad and Secunderabad
Testimonials for Hyderabad fertility center, Ziva IVF clinics
Sri Lakshmi
After experiencing infertility issues, my husband and I went to the Ziva fertilityy centre. He was diagnosed with azoospermia, and the doctors recommended treatment for him. I'm happy to say that this was our best life decision. Within three months, I became pregnant. Thanks to the Ziva fertilityy centre, I appreciate you. Keep going.
Click here to read more testimonials for IVF treatment Hyderabad at Ziva fertilityy centre.
IVF treatment in Hyderabad at Ziva IVF centre – FAQS
What should I avoid during IVF treatment?
Foods to avoid during the IVF treatment.
Refined sugars

Seafood

Alcohol

Caffeine

Cheese

Eggs in a raw form
2. Can you tell me how long egg retrieval takes?
Depending on how many follicles are present, egg retrieval typically takes under 30 minutes.
3. Is embryo transfer painful?
There is no difference between this and IUI. It is typical for a woman to feel only the speculum and nothing else during the procedure.
4. How many rounds of IVF does it usually take to get pregnant?
Six cycles yield the highest success rate for IVF. According to that thorough analysis, which took into account the outcomes of fresh and frozen embryo transfers, researchers discovered that the average live birth rate for couples undergoing six IVF cycles was 65.3%.
5. How to book IVF specialists appointment for IVF treatment in Hyderabad and Secunderabad at Ziva fertilityy clinics?
Call now +91-9100002737 for IVF treatment in Hyderabad and Secunderabad, male and female infertility treatment, IVF, IUI, and ICSI treatments at Ziva fertilityy clinics. Book your appointment now for IVF procedure.
Timings: Mon to Sat: 9:00 AM – 5:00 PM
Sunday: Consultations only on prior appointment
Chat with Ziva fertilityy clinic's IVF specialist: click here.
Contact us right now at +91-9100002737
Email now: Info@zivafertility.com
Call now: +91-9392834024
Follow Ziva fertilityy clinic on Facebook/ Twitter/ Instagram
Subscribe now: YouTube
Address: Ziva fertilityy clinic is located in Hyderabad, a prime location and delivers IVF, IUI, and ICSI treatment for people. We have branches around Hyderabad including Manikonda, Banjara Hills, Kompally, Sanath Nagar, and Langar Houz.
If you have further questions about IVF procedure, IVF treatment cost in Hyderabad, schedule a fertility specialist consultation with Ziva IVF doctors now!
View on Google Maps: https://www.google.com/maps/place/Road+No.+12,+Hyderabad,+Telangana+500034,+India/@17.410097,78.437668,20z/data=!4m6!3m5!1s0x3bcb972455f5b505:0x84bb99a124eab051!8m2!3d17.410097!4d78.4376677!16s%2Fg%2F1tgx51gb?hl=en-GB